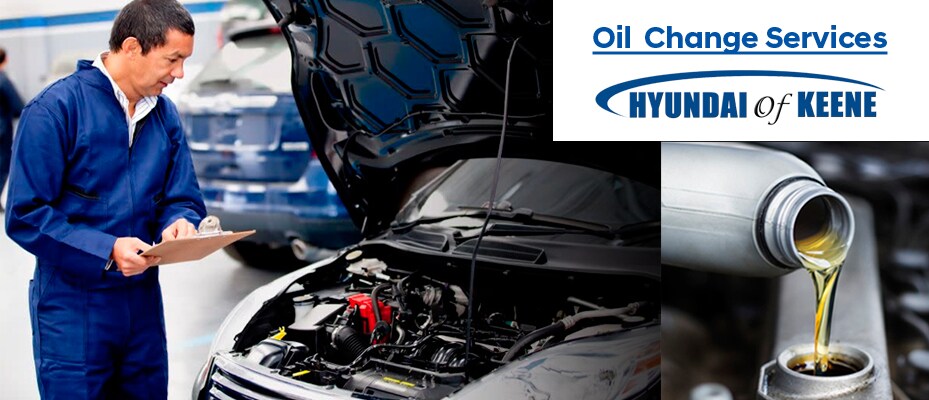 Need an oil change done by a professional in the Keene, NH area? Hyundai of Keene can help! No appointment necessary! We're also conveniently located across the street from the Monadnock Shopping Plaza in Keene so customers can easily take advantage of our complimentary shuttle service and shop next door while they wait for their vehicle to be serviced. *Call or stop in today for details. 
In need of a synthetic oil change or don't have a Hyundai? We service most makes and models and can do a variety of oil changes based on your vehicle's needs. Call and speak to a service advisor today for details and assistance with your vehicle's oil change needs.

How Often Should I Change My Hyundai's Oil?

Hyundai of Keene encourages Hyundai owners to follow the factory recommended intervals with the first oil change starting at 3,500 miles. This is the best way to keep your Hyundai running great and maintain its resell value.
You can also refer to the Maintenance section in the Owner's Manual or contact
Hyundai of Keene
for a full list of minimum maintenance requirements. The maintenance schedule will vary depending on how you drive and the conditions you drive in.
For quality maintenance and safety purposes, our service technicians follow the Hyundai service maintenance guidelines. Hyundai lists NH, VT, MA as states with 'Severe' driving conditions due to the extreme heat, cold, road conditions and overall environment in which they operate in on a daily basis. As a result, they recommend a more frequent maintenance schedule to best preserve your warranty, safety and your resale value. When scheduling your online service, please check off "SEVERE" as your vehicle's driving condition.


What does Hyundai consider a 'Severe' driving condition?

• Driving repeated short distances.
• In dusty or sandy areas, in areas where salt or other corrosive materials are used.
• On rough or muddy roads.
• In mountainous areas.
• For extended periods of idling or low speed operation.
• For prolonged periods in cold or extremely humid climates.
• More than 50% of driving in heavy city traffic in temperatures above 90°F.
• If using brakes extensively.
Difference Between Conventional, Synthetic and Semi-Synthetic?
Good motor oil is essential in keeping your Hyundai's engine running smoothly and performing at its best for a long time. Motor oil does more than keep the engine's many moving parts lubricated. Good motor oil also helps reduce the wear on the engine's parts over time, helps cut down on naturally occurring sludge build-up, improves sealing of piston rings and helps to carry heat away from moving parts. Ultimately improving your Hyundai's fuel economy as well.

There are many different types and grades of motor oils out there today and it's important to have at least a basic understanding of the differences between conventional oil, synthetic oil and semi-synthetic oil and what type may be best for your Hyundai when it's time for your regularly scheduled oil change. So here's a quick break down of each:
Conventional Oil:  Is a crude, unrefined oil. Known to be the least expensive choice when changing your oil, it is best suited for older engines or those that drive in regular (as opposed to severe) driving conditions. That is, they do not experience extreme temperature changes (unlike New England). Conventional oil also needs to be change more frequently than a synthetic oil change as its natural components breakdown and sludge up faster over time than a synthetic oil.

Synthetic Oil: Is a man-made motor oil, that last up to two or three times longer than conventional oil and can withstand extreme temperature changes, unlike conventional oil. It can be used interchangeably with conventional oil, with exception to performance vehicles that require synthetic only. The downside is it can cost about twice as much as conventional oil but its performance and longevity can even out or outweigh those factors if you can afford the costs upfront.

Semi-Synthetic Oil: Get the best of both worlds with a blend of the two!

You'll get a middle of the road oil in terms of performance, longevity and costs.

Still not sure what oil to chose? You can always refer to your vehicle's manual.  Members of our Hyundai of Keene Parts and Service team are always happy to assist as well and are just a phone call, click or text away!

Sources:

"Synthetic Oil vs. Conventional Oil." https://mobiloil.com/en/article/car-maintenance/learn-about-motor-oil-facts/synthetic-oil-vs-conventional-oil.
"Synthetic Oil vs. Conventional Oil". https://www.idrivesafely.com/defensive-driving/trending/synthetic-oil-vs-conventional-oil.

Service Amenities
Not only do we provide expert Hyundai care, we are proud to offer these added benefits that make us different than the rest:
24/7 Online Scheduling
AAA approved

Dog-friendly
Children's Play area

Complimentary Coffee, Wi-Fi

& Cable TV
No-appointment Oil Change

Shuttle Service within 10-mile radius
Service Hours
Monday

8:00 am - 5:00 pm

Tuesday

8:00 am - 5:00 pm

Wednesday

8:00 am - 5:00 pm

Thursday

8:00 am - 5:00 pm

Friday

8:00 am - 5:00 pm

Saturday

8:00 am - 2:00 pm

Sunday

Closed
Ask a Service Question
* Indicates a required field